Planned events
On Thursday 25th November 2021 7 PM, the first session of our Reading Club will take place! Join to discuss an enjoyable book about diverse positive effects of nature…
We are also planning a workshop with Hnutí Brontosaurus on 2nd December from 6:30 PM at Malířská 6 in Prague!


---
Past events
We regularly organise events with the main goal of raising awareness of the Sustainability topic. Several events also focused on hearing people's feedback and experiences through debate or a brainstorming session.
Presentations on the topic of individuals' and/or companies' sustainability
Take a look at the list of our past events:
DOBROudržitelné odpoledne #Vánoce 21. 11. 2021
At this event
, organized together with Dobrovolnická akademie INEX, you could hear stories of volunteers and have a talk with NGO representatives about less consumerist Christmas.
How to have a sustainable Christmas and household: 2. 12. 2020 online – with Hnutí Brontosaurus
Sustainability – workshop with Hnutí Brontosaurus in Prague 8. 10. 2020
Town celebrations in Jílové u Prahy: 12. 9. 2020
We were invited to have an interactive stall at the
Town celebrations
in Jílové u Prahy.
Sustainability Workshop 3 with debate: 9. 9. 2020
From 18:30 till 20:00 another
Sustainability workshop
took place on the Smíchov riverside in Prague. 🙂 Besides other things, we discussed the relationship of the coronavirus pandemic and the environment.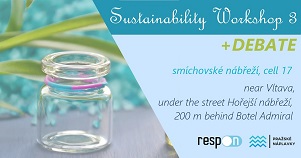 Rise and Shine conference 17. 5. 2020
The personal development conference with the topic
Think, talk and listen
happened online
this time. We took part in it with a video-recipe for a sustainable product for household.
Go Green webinar 4. 5. 2020
The
webinar
organised by the Volunteer academy INEX and ESN Prague had sustainability in organisations and households as its topic.
Online Rise and Shine conference 4. 4. 2020
Organisers of the
conference Live your dream
were not even stopped by the state of emergency during the COVID-19 pandemic and the event moved online 🙂 As RespON we contributed to it with a video about how to prepare a home-made product.
---
---
2018
Xmas gifts made sustainably workshop 11. 12. 2018
On 11
th
December, a
Xmas gift-making workshop
took place in JazyGo (Mánesova 28, Praha) from 6:30 PM! You could get inspired there how to spend Christmas more sustainably and take away something original for your family/friends.
Photos from the event
.
Workshop about sustainable lifestyle in the Žižkov Community Centre 29. 11. 2018
At the workshop and presentation about sustainable lifestyle in the
Žižkov Community Centre
, you made e. g. your own dry shampoo or washing powder.
Invitation for the event
.
Rise and Shine conference 3. 11. 2018: Rosteme společně
Everyone who visited the RespON stall at this conference could make their own softener, toothpaste or solve a cipher.
Photo and recipes (in Czech)
.
Regional conference EVVO 31. 10. 2018
Screening of the film Immortal forest 20. 9. 2018
In cooperation with the Prague 3 Municipality and Echoes of Ekofilm, we screened the Slovak documentary Immortal forest, within the event Sousedská slavnost.

Fairytale expedition in Zeleneč 8. 9. 2018
Thanks to our previous collaboration with the municipality of Zeleneč, we could be present at the Fairytale expedition on 8. 9. 2018, where we had a stall with games for children. In the
photo gallery
you can even see too original drawings by young green-minded artists.
Rise and Shine conference 18. 6. 2018
In 2018, the organisers invited us for their June conference too (18. 6. 2018). This time participants got the opportunity to make their own softener at our stall.
Here you find pictures
(source: Rise and Shine).
Rise and Shine conference 17. 3. 2018
On Saturday 17
th
March we had the pleasure to talk about our activities at a stand at a student
Rise and Shine
conference. We had prepared a quiz for participants and a video had been shot (in Czech) in connection with our participation:
Take a look at the photos from the conference.

---
2017
In 2017 we presented sustainable issues on these occasions:
presentation at Earth Day in Zeleneč u Prahy,
stand at Elderly Day on náměstí Jiřího z Poděbrad in Prague,
presentation at CEMS Block Seminar at Vienna University (WU) focused on managing the change towards a greater sustainability in companies.